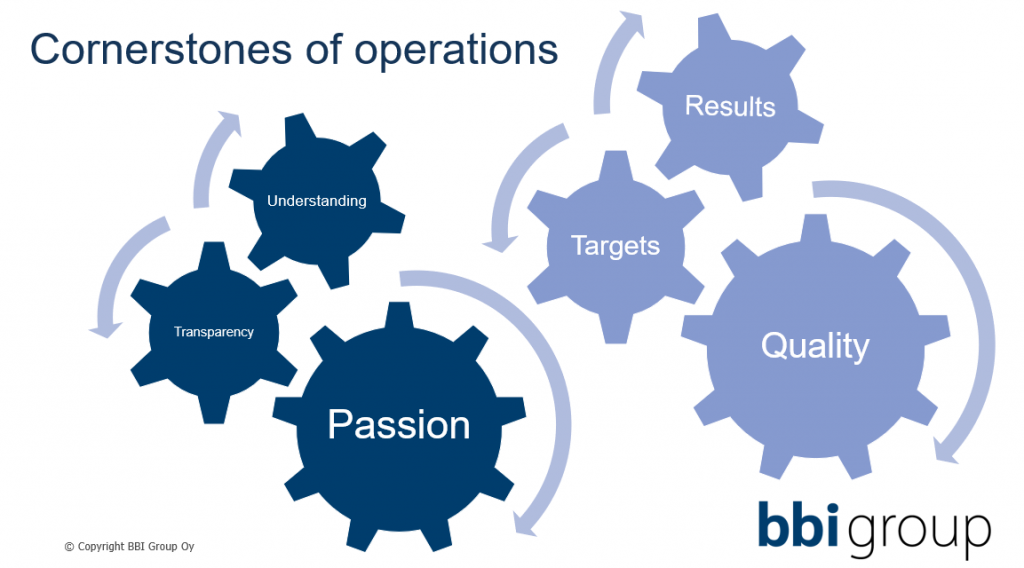 The six cornerstones of BBI's operations are: Passion, Transparency, Understanding, Quality, Targets and Results. They constitute our customer promise, which we want to honour every day each time we meet. We want to embed this into our internal activities also, because we believe in-house culture strongly influences customer encounters.
Everything we do, we do passionately
We are burning with the desire to help companies develop their businesses. We are experts in our field, and proud of it. We are thrilled that we get to do what we are passionate about. We also are passionate about the development and wellbeing of our own people. We are burning with the desire to be the company with experts delighting in giving customers their best.
Transparency generates trust
We communicate transparently and openly with our clients and our staff, and we keep them and you updated through thick and thin. We truly believe all our stakeholders are worthy of our trust. We are also convinced that by being transparent, we gain others' trust and transparency. Transparent communications enable us to be nimble and act briskly. This is at the core of all our activities.
The key to working with customers is understanding
Understanding what we are doing and why we are doing it gives us a purpose and makes our work meaningful. That way we are best able assist each other within BBI and to help our customers solve their problems and reach their development targets. We seek to thoroughly understand our clients' business activities and corporate culture so we can be the best partner for them in developing their companies.
We also want to understand the experts working for us, their circumstances and needs, so we can be a good employer.
Quality is the foundation on which we base our working methods
Our customers can rely on us to always deliver high quality. Everything we do is aimed at achieving all-round excellence. This applies to both our in-house procedures and all our activities at the customer's premises.
We always try to break tasks down into easily digestible parts, so that results are seen quickly and the path to the target is easy to monitor and measure.
We make proven concepts and tools available for you to can carry on from where we left off.
Our work is target-oriented
Targets are always defined together with the customer and then become commitments. We also set ourselves targets so that we all work together towards a common goal.
Everything we do is aimed at achieving a result
Without goals there would be no results. We give top priority to providing the customer with the optimal result that we have jointly defined with the customer.